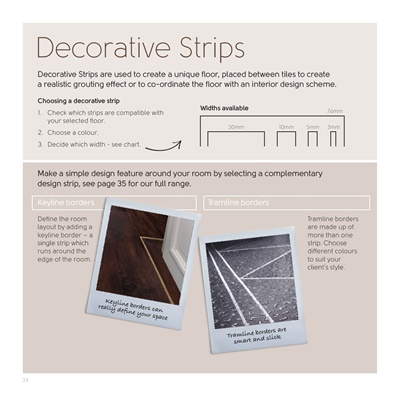 Decorative Strips
Decorative Strips are used to create a unique floor, placed between tiles to create
a realistic grouting effect or to co-ordinate the floor with an interior design scheme.
Choosing a decorative strip
Widths available 76mm
1. Check which strips are compatible with
your selected floor.
30mm 10mm 5mm 3mm
2. Choose a colour.
3. Decide which width - see chart.
Make a simple design feature around your room by selecting a complementary
design strip, see page 35 for our full range.
Keyline borders Tramline borders
Define the room Tramline borders
layout by adding a are made up of
keyline border – a more than one
single strip which strip. Choose
runs around the different colours
edge of the room. to suit your
client's style.
Keyli
really d ne borders ca
efine y n
our spa
ce
orders are
Tramline b d slick
smart a n
34