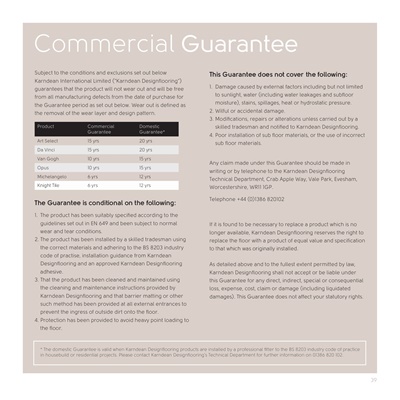 Commercial Guarantee
Subject to the conditions and exclusions set out below This Guarantee does not cover the following:
Karndean International Limited ("Karndean Designflooring")
guarantees that the product will not wear out and will be free 1. Damage caused by external factors including but not limited
from all manufacturing defects from the date of purchase for to sunlight, water (including water leakages and subfloor
the Guarantee period as set out below. Wear out is defined as moisture), stains, spillages, heat or hydrostatic pressure.
the removal of the wear layer and design pattern. 2. Wilful or accidental damage.
3. Modifications, repairs or alterations unless carried out by a
Product Commercial Domestic skilled tradesman and notified to Karndean Designflooring.
Guarantee Guarantee*
4. Poor installation of sub floor materials, or the use of incorrect
Art Select 15 yrs 20 yrs
sub floor materials.
Da Vinci 15 yrs 20 yrs
Van Gogh 10 yrs 15 yrs
Any claim made under this Guarantee should be made in
Opus 10 yrs 15 yrs
writing or by telephone to the Karndean Designflooring
Michelangelo 6 yrs 12 yrs
Technical Department, Crab Apple Way, Vale Park, Evesham,
Knight Tile 6 yrs 12 yrs Worcestershire, WR11 1GP.
Telephone +44 (0)1386 820102
The Guarantee is conditional on the following:
1. The product has been suitably specified according to the
guidelines set out in EN 649 and been subject to normal If it is found to be necessary to replace a product which is no
wear and tear conditions. longer available, Karndean Designflooring reserves the right to
2. The product has been installed by a skilled tradesman using replace the floor with a product of equal value and specification
the correct materials and adhering to the BS 8203 industry to that which was originally installed.
code of practise, installation guidance from Karndean
Designflooring and an approved Karndean Designflooring As detailed above and to the fullest extent permitted by law,
adhesive. Karndean Designflooring shall not accept or be liable under
3. That the product has been cleaned and maintained using this Guarantee for any direct, indirect, special or consequential
the cleaning and maintenance instructions provided by loss, expense, cost, claim or damage (including liquidated
Karndean Designflooring and that barrier matting or other damages). This Guarantee does not affect your statutory rights.
such method has been provided at all external entrances to
prevent the ingress of outside dirt onto the floor.
4. Protection has been provided to avoid heavy point loading to
the floor.
* The domestic Guarantee is valid when Karndean Designflooring products are installed by a professional fitter to the BS 8203 industry code of practice
in housebuild or residential projects. Please contact Karndean Designflooring's Technical Department for further information on 01386 820 102.
39