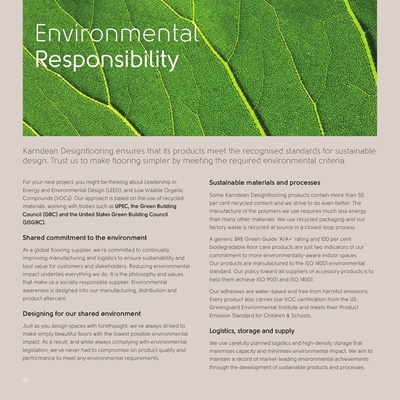 Environmental
Responsibility
Karndean Designflooring ensures that its products meet the recognised standards for sustainable
design. Trust us to make flooring simpler by meeting the required environmental criteria.
For your next project, you might be thinking about Leadership in Sustainable materials and processes
Energy and Environmental Design (LEED), and Low Volatile Organic
Some Karndean Designflooring products contain more than 50
Compounds (VOCs). Our approach is based on the use of recycled
per cent recycled content and we strive to do even better. The
materials, working with bodies such as UPEC, the Green Building
manufacture of the polymers we use requires much less energy
Council (GBC) and the United States Green Building Council
than many other materials. We use recycled packaging and our
(USGBC).
factory waste is recycled at source in a closed-loop process.
Shared commitment to the environment A generic BRE Green Guide 'A/A+' rating and 100 per cent
biodegradable floor care products are just two indicators of our
As a global flooring supplier, we're committed to continually
commitment to more environmentally-aware indoor spaces.
improving manufacturing and logistics to ensure sustainability and
Our products are manufactured to the ISO 14001 environmental
best value for customers and stakeholders. Reducing environmental
standard. Our policy toward all suppliers of accessory products is to
impact underlies everything we do. It is the philosophy and values
help them achieve ISO 9001 and ISO 14001.
that make us a socially responsible supplier. Environmental
awareness is designed into our manufacturing, distribution and Our adhesives are water-based and free from harmful emissions.
product aftercare. Every product also carries low-VOC certification from the US
Greenguard Environmental Institute and meets their Product
Designing for our shared environment Emission Standard for Children & Schools.
Just as you design spaces with forethought, we've always strived to
make simply beautiful floors with the lowest possible environmental
Logistics, storage and supply
impact. As a result, and while always complying with environmental We use carefully planned logistics and high-density storage that
legislation, we've never had to compromise on product quality and maximises capacity and minimises environmental impact. We aim to
performance to meet any environmental requirements. maintain a record of market-leading environmental achievements
through the development of sustainable products and processes.
40