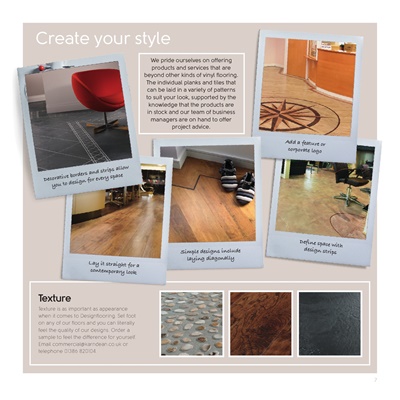 Create your style
We pride ourselves on offering
products and services that are
beyond other kinds of vinyl flooring.
The individual planks and tiles that
can be laid in a variety of patterns
to suit your look, supported by the
knowledge that the products are
in stock and our team of business
managers are on hand to offer
project advice.
Add a feature or
corporate logo
s allow
nd strip
ve borders a pace
Decorati r every s
you to design fo
Define spac
e with
design strips
Simple designs include
laying diagonally
Lay it straight for a
contemporary look
Texture
Texture is as important as appearance
when it comes to Designflooring. Set foot
on any of our floors and you can literally
feel the quality of our designs. Order a
sample to feel the difference for yourself.
Email commercial@karndean.co.uk or
telephone 01386 820104.
7