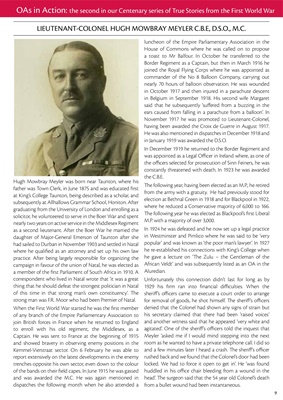 OAs in Action: the second in our Centenary series of True Stories from the First World War
LIEUTENANT-COLONEL HUGH MOWBRAY MEYLER C.B.E, D.S.O., M.C.
Hugh Mowbray Meyler was born near Taunton, where his
father was Town Clerk, in June 1875 and was educated first
at King's College Taunton, being described as a scholar, and
subsequently at Allhallows Grammar School, Honiton. After
graduating from the University of London and enrolling as a
solicitor, he volunteered to serve in the Boer War and spent
nearly two years on active service in the Middlesex Regiment
as a second lieutenant. After the Boer War he married the
daughter of Major-General Emerson of Taunton after she
had sailed to Durban in November 1903 and settled in Natal
where he qualified as an attorney and set up his own law
practice. After being largely responsible for organizing the
campaign in favour of the union of Natal, he was elected as
a member of the first Parliament of South Africa in 1910. A
correspondent who lived in Natal wrote that 'it was a great
thing that he should defeat the strongest politician in Natal
of this time in that strong man's own constituency'. he
strong man was F.R. Moor who had been Premier of Natal.
When the First World War started he was the first member
of any branch of the Empire Parliamentary Association to
join British forces in France when he returned to England
to enroll with his old regiment, the Middlesex, as a
Captain. He was sent to France at the beginning of 1915
and showed bravery in observing enemy positions in the
Kemmel-Vierstraat sector. On 6 February he was able to
report extensively on the latest developments in the enemy
trenches opposite his own sector, even down to the colour
of the bands on their field capes. In June 1915 he was gassed
and was awarded the M.C. He was again mentioned in
dispatches the following month when he also attended a luncheon of the Empire Parliamentary Association in the
House of Commons where he was called on to propose
a toast to Mr Balfour. In October he transferred to the
Border Regiment as a Captain, but then in March 1916 he
joined the Royal Flying Corps where he was appointed as
commander of the No 8 Balloon Company, carrying out
nearly 70 hours of balloon observation. He was wounded
in October 1917 and then injured in a parachute descent
in Belgium in September 1918. His second wife Margaret
said that he subsequently 'suffered from a buzzing in the
ears caused from falling in a parachute from a balloon'. In
November 1917 he was promoted to Lieutenant-Colonel,
having been awarded the Croix de Guerre in August 1917.
He was also mentioned in dispatches in December 1918 and
in January 1919 was awarded the D.S.O.
In December 1919 he returned to the Border Regiment and
was appointed as a Legal Officer in Ireland where, as one of
the officers selected for prosecution of Sinn Feiners, he was
constantly threatened with death. In 1923 he was awarded
the C.B.E.
he following year, having been elected as an M.P., he retired
from the army with a gratuity. He had previously stood for
election at Bethnal Green in 1918 and for Blackpool in 1922,
where he reduced a Conservative majority of 6,000 to 166.
he following year he was elected as Blackpool's first Liberal
M.P. with a majority of over 3,000.
In 1924 he was defeated and he now set up a legal practice
in Westminster and Pimlico where he was said to be 'very
popular' and was known as 'the poor man's lawyer'. In 1927
he re-established his connections with King's College when
he gave a lecture on 'he Zulu - the Gentleman of the
African Veldt' and was subsequently listed as an OA in the
Aluredian.
Unfortunately this connection didn't last for long as by
1929 his firm ran into financial difficulties. When the
sheriff's officers came to execute a court order to arrange
for removal of goods, he shot himself. he sheriff's officers
denied that the Colonel had shown any signs of strain but
his secretary claimed that there had been 'raised voices'
and another witness said that he appeared 'very white and
agitated'. One of the sheriff's officers told the inquest that
Meyler 'asked me if I would mind stepping into the next
room as he wanted to have a private telephone call. I did so
and a few minutes later I heard a crash. he sheriff's officer
rushed back and we found that the Colonel's door had been
locked. We had to force it open to get in'. He 'was found
huddled in his office chair bleeding from a wound in the
head'. he surgeon said that the 54 year old Colonel's death
from a bullet wound had been instantaneous.
9