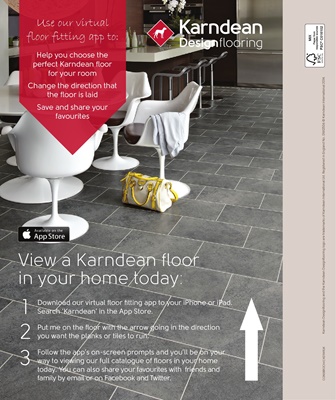 Karndean Designflooring and the Karndean Designflooring logo are trademarks of Karndean International Ltd. Registered in England No. 01612506 © Karndean International 2014.
CONSBROCH4 | KD1149UK
Use our virtual
loor itting app to:
Help you choose the
perfect Karndean floor
for your room
Change the direction that
the floor is laid
Save and share your
favourites
1
2
3
View a Karndean floor
in your home today:
Download our virtual floor fitting app to your iPhone or iPad.
Search 'Karndean' in the App Store.
Put me on the floor with the arrow going in the direction
you want the planks or tiles to run.
Follow the app's on-screen prompts and you'll be on your
way to viewing our full catalogue of floors in your home
today. You can also share your favourites with friends and
family by email or on Facebook and Twitter.