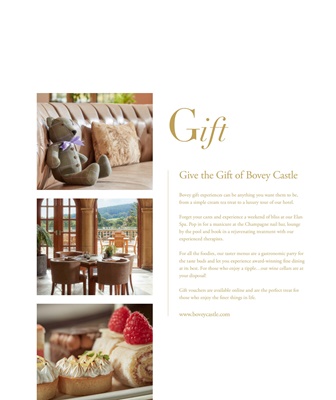 Give the Gift of Bovey Castle
Bovey gift experiences can be anything you want them to be,
from a simple cream tea treat to a luxury tour of our hotel.
Forget your cares and experience a weekend of bliss at our Elan
Spa. Pop in for a manicure at the Champagne nail bar, lounge
by the pool and book in a rejuvenating treatment with our
experienced therapists.
For all the foodies, our taster menus are a gastronomic party for
the taste buds and let you experience award-winning fine dining
at its best. For those who enjoy a tipple…our wine cellars are at
your disposal!
Gift vouchers are available online and are the perfect treat for
those who enjoy the finer things in life.
Gift