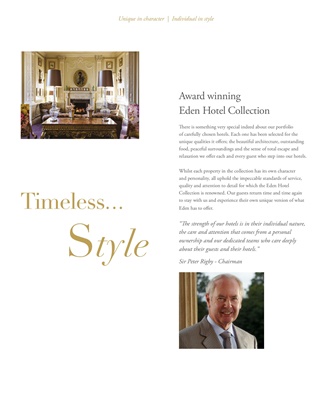 Unique in character | Individual in style
Style Award winning
Eden Hotel Collection
There is something very special indeed about our portfolio
of carefully chosen hotels. Each one has been selected for the
unique qualities it offers; the beautiful architecture, outstanding
food, peaceful surroundings and the sense of total escape and
relaxation we offer each and every guest who step into our hotels.
Whilst each property in the collection has its own character
and personality, all uphold the impeccable standards of service,
quality and attention to detail for which the Eden Hotel
Collection is renowned. Our guests return time and time again
to stay with us and experience their own unique version of what
Eden has to offer.
"The strength of our hotels is in their individual nature,
the care and attention that comes from a personal
ownership and our dedicated teams who care deeply
about their guests and their hotels."
Sir Peter Rigby - Chairman
EDEN HOTEL COLLECTION
Timeless...