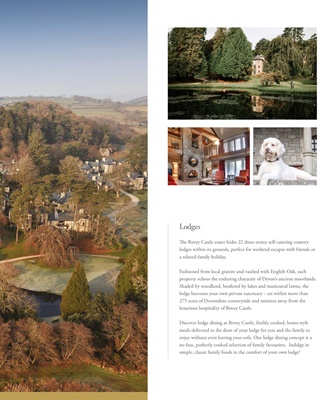 Lodges
The Bovey Castle estate hides 22 three-storey country lodges within
its grounds, perfect for weekend escapes with friends or a relaxed
family holiday.
Fashioned from local granite and vaulted with English oak, each
property echoes the enduring character of Devon's ancient moorlands.
Shaded by woodland, bordered by lakes and manicured lawns, the
lodge becomes your own private sanctuary - set within more than
275 acres of Devonshire countryside and minutes away from the
luxurious hospitality of Bovey Castle.
Discover lodge dining at Bovey Castle, freshly cooked, home-style
meals delivered to the door of your lodge for you and the family to
enjoy without even leaving your sofa. Our lodge dining concept is a
no fuss, perfectly cooked selection of family favourites. Indulge in
simple, classic family foods in the comfort of your own lodge!