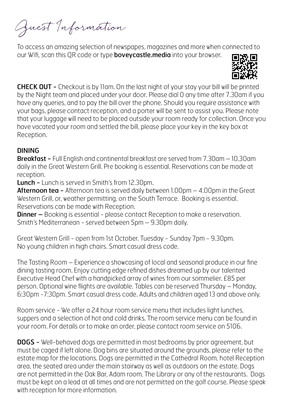 GOLF LESSONS - The hotel's resident teaching professionals offer lessons to golfers of
all abilities including introduction sessions for children. Please contact the Golf Shop for
more information (ext 5009).
GOLF EQUIPMENT - Clubs and golf carts are available for hire from the golf shop.
GOLF SHOP - The Bovey Castle golf shop stocks the latest golfing fashion of men and
women, as well as other items such as socks, clothes, bags and waterproofs. It is situated
below Smith's Brasserie.
GOLF DRIVING RANGE - The golf range is currently closed.
HOUSEKEEPING - Housekeeping services are available, but are limited.
CLEANING SERVICE - Cleaning service available every 4th day of your stay between
9.00am and 3.00pm. We kindly ask that you request a service time with Reception or the
Housekeeping team. No evening turndown service is currently available.
FIRE SAFETY - Please familiarise yourself with the fire instructions on the back or your
bedroom door. Should you suspect a fire, please call Reception.
The fire alarms are tested every Monday at 11.30am and consist of two or three short
blasts. On hearing a continuous fire alarm, guests should vacate the building immediately
and assemble on the far side of the main entrance (opposite the fountain).
LAUNDRY/DRY CLEANING - A laundry and pressing service is available seven days a
week (please allow 24 hours). Please contact Reception for prices. Unfortunately, the
dry-cleaning service is currently unavailable. Should you require an ironing board and
iron, please contact Housekeeping or Reception. We kindly ask that you contact us again
once you have finished using the ironing board and iron.
MAINTENANCE - While we hope that you will find everything in excellent working order
during your stay, please contact Reception in the event of any problems. Please note
that should our Maintenance team require entry to your room, the room will need to be
vacant.
MANAGER - There is always a manager on duty, so please do not hesitate to let us know
if you need any assistance.
NIGHTS - The hotel's night team will be happy to assist you with anything you require
between the hours of 11.00pm - 7.30am.
RESORT DESK - The Resort Desk can be found in the main building of the hotel, to the
left of the main staircase. Please speak to the Resort team (or Reception team) if you
would like to book any of the activities that Bovey Castle offers, as well as make
arrangements for transport or dinner reservations.