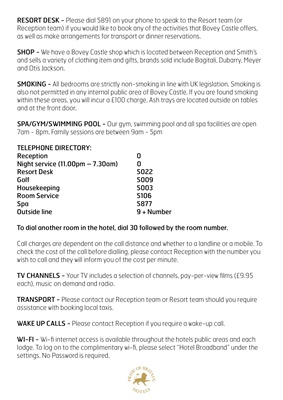 RESORT DESK - Please dial 5891 on your phone to speak to the Resort team (or
Reception team) if you would like to book any of the activities that Bovey Castle offers,
as well as make arrangements for transport or dinner reservations.
SHOP - We have a Bovey Castle shop which is located between Reception and Smith's
and sells a variety of clothing item and gifts, brands sold include Bagitali, Dubarry, Meyer
and Otis Jackson.
SMOKING - All bedrooms are strictly non-smoking in line with UK legislation. Smoking is
also not permitted in any internal public area of Bovey Castle. If you are found smoking
within these areas, you will incur a £100 charge. Ash trays are located outside on tables
and at the front door.
SPA/GYM/SWIMMING POOL - Our gym, swimming pool and all spa facilities are open
7am - 8pm. Family sessions are between 9am - 5pm
TELEPHONE DIRECTORY:
Reception 0
Night service (11.00pm - 7.30am) 0
Resort Desk 5022
Golf 5009
Housekeeping 5003
Room Service 5106
Spa 5877
Outside line 9 + Number
To dial another room in the hotel, dial 30 followed by the room number.
Call charges are dependent on the call distance and whether to a landline or a mobile. To
check the cost of the call before dialling, please contact Reception with the number you
wish to call and they will inform you of the cost per minute.
TV CHANNELS - Your TV includes a selection of channels, pay-per-view films (£9.95
each), music on demand and radio.
TRANSPORT - Please contact our Reception team or Resort team should you require
assistance with booking local taxis.
WAKE UP CALLS - Please contact Reception if you require a wake-up call.
WI-FI - Wi-fi internet access is available throughout the hotels public areas and each
lodge. To log on to the complimentary wi-fi, please select "Hotel Broadband" under the
settings. No Password is required.