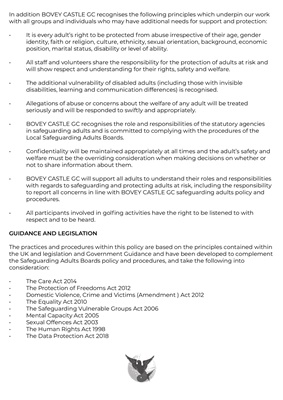 In addition BOVEY CASTLE GC recognises the following principles which underpin our work
with all groups and individuals who may have additional needs for support and protection:
• It is every adult's right to be protected from abuse irrespective of their age, gender
identity, faith or religion, culture, ethnicity, sexual orientation, background, economic
position, marital status, disability or level of ability.
• All staff and volunteers share the responsibility for the protection of adults at risk and
will show respect and understanding for their rights, safety and welfare.
• The additional vulnerability of disabled adults (including those with invisible
disabilities, learning and communication differences) is recognised.
• Allegations of abuse or concerns about the welfare of any adult will be treated
seriously and will be responded to swiftly and appropriately.
• BOVEY CASTLE GC recognises the role and responsibilities of the statutory agencies
in safeguarding adults and is committed to complying with the procedures of the
Local Safeguarding Adults Boards.
• Confidentiality will be maintained appropriately at all times and the adult's safety and
welfare must be the overriding consideration when making decisions on whether or
not to share information about them.
• BOVEY CASTLE GC will support all adults to understand their roles and responsibilities
with regards to safeguarding and protecting adults at risk, including the responsibility
to report all concerns in line with BOVEY CASTLE GC safeguarding adults policy and
procedures.
• All participants involved in golfing activities have the right to be listened to with
respect and to be heard.
GUIDANCE AND LEGISLATION
The practices and procedures within this policy are based on the principles contained within
the UK and legislation and Government Guidance and have been developed to complement
the Safeguarding Adults Boards policy and procedures, and take the following into
consideration:
• The Care Act 2014
• The Protection of Freedoms Act 2012
• Domestic Violence, Crime and Victims (Amendment ) Act 2012
• The Equality Act 2010
• The Safeguarding Vulnerable Groups Act 2006
• Mental Capacity Act 2005
• Sexual Offences Act 2003
• The Human Rights Act 1998
• The Data Protection Act 2018