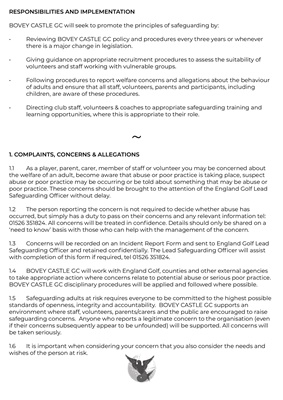 RESPONSIBILITIES AND IMPLEMENTATION
BOVEY CASTLE GC will seek to promote the principles of safeguarding by:
• Reviewing BOVEY CASTLE GC policy and procedures every three years or whenever
there is a major change in legislation.
• Giving guidance on appropriate recruitment procedures to assess the suitability of
volunteers and staff working with vulnerable groups.
• Following procedures to report welfare concerns and allegations about the behaviour
of adults and ensure that all staff, volunteers, parents and participants, including
children, are aware of these procedures.
• Directing club staff, volunteers & coaches to appropriate safeguarding training and
learning opportunities, where this is appropriate to their role.
~
1. COMPLAINTS, CONCERNS & ALLEGATIONS
1.1 As a player, parent, carer, member of staff or volunteer you may be concerned about
the welfare of an adult, become aware that abuse or poor practice is taking place, suspect
abuse or poor practice may be occurring or be told about something that may be abuse or
poor practice. These concerns should be brought to the attention of the England Golf Lead
Safeguarding Officer without delay.
1.2 The person reporting the concern is not required to decide whether abuse has
occurred, but simply has a duty to pass on their concerns and any relevant information tel:
01526 351824. All concerns will be treated in confidence. Details should only be shared on a
'need to know' basis with those who can help with the management of the concern.
1.3 Concerns will be recorded on an Incident Report Form and sent to England Golf Lead
Safeguarding Officer and retained confidentially. The Lead Safeguarding Officer will assist
with completion of this form if required, tel 01526 351824.
1.4 BOVEY CASTLE GC will work with England Golf, counties and other external agencies
to take appropriate action where concerns relate to potential abuse or serious poor practice.
BOVEY CASTLE GC disciplinary procedures will be applied and followed where possible.
1.5 Safeguarding adults at risk requires everyone to be committed to the highest possible
standards of openness, integrity and accountability. BOVEY CASTLE GC supports an
environment where staff, volunteers, parents/carers and the public are encouraged to raise
safeguarding concerns. Anyone who reports a legitimate concern to the organisation (even
if their concerns subsequently appear to be unfounded) will be supported. All concerns will
be taken seriously.
1.6 It is important when considering your concern that you also consider the needs and
wishes of the person at risk.