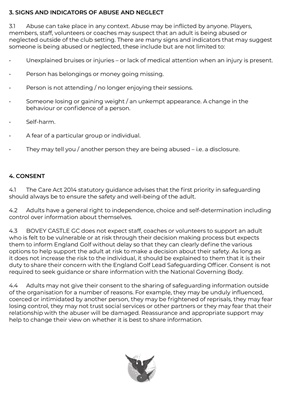 3. SIGNS AND INDICATORS OF ABUSE AND NEGLECT
3.1 Abuse can take place in any context. Abuse may be inflicted by anyone. Players,
members, staff, volunteers or coaches may suspect that an adult is being abused or
neglected outside of the club setting. There are many signs and indicators that may suggest
someone is being abused or neglected, these include but are not limited to:
• Unexplained bruises or injuries - or lack of medical attention when an injury is present.
• Person has belongings or money going missing.
• Person is not attending / no longer enjoying their sessions.
• Someone losing or gaining weight / an unkempt appearance. A change in the
behaviour or confidence of a person.
• Self-harm.
• A fear of a particular group or individual.
• They may tell you / another person they are being abused - i.e. a disclosure.
4. CONSENT
4.1 The Care Act 2014 statutory guidance advises that the first priority in safeguarding
should always be to ensure the safety and well-being of the adult.
4.2 Adults have a general right to independence, choice and self-determination including
control over information about themselves.
4.3 BOVEY CASTLE GC does not expect staff, coaches or volunteers to support an adult
who is felt to be vulnerable or at risk through their decision making process but expects
them to inform England Golf without delay so that they can clearly define the various
options to help support the adult at risk to make a decision about their safety. As long as
it does not increase the risk to the individual, it should be explained to them that it is their
duty to share their concern with the England Golf Lead Safeguarding Officer. Consent is not
required to seek guidance or share information with the National Governing Body.
4.4 Adults may not give their consent to the sharing of safeguarding information outside
of the organisation for a number of reasons. For example, they may be unduly influenced,
coerced or intimidated by another person, they may be frightened of reprisals, they may fear
losing control, they may not trust social services or other partners or they may fear that their
relationship with the abuser will be damaged. Reassurance and appropriate support may
help to change their view on whether it is best to share information.