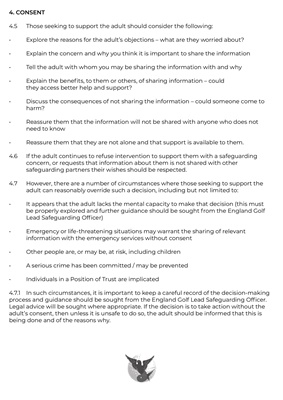 4. CONSENT
4.5 Those seeking to support the adult should consider the following:
• Explore the reasons for the adult's objections - what are they worried about?
• Explain the concern and why you think it is important to share the information
• Tell the adult with whom you may be sharing the information with and why
• Explain the benefits, to them or others, of sharing information - could
they access better help and support?
• Discuss the consequences of not sharing the information - could someone come to
harm?
• Reassure them that the information will not be shared with anyone who does not
need to know
• Reassure them that they are not alone and that support is available to them.
4.6 If the adult continues to refuse intervention to support them with a safeguarding
concern, or requests that information about them is not shared with other
safeguarding partners their wishes should be respected.
4.7 However, there are a number of circumstances where those seeking to support the
adult can reasonably override such a decision, including but not limited to:
• It appears that the adult lacks the mental capacity to make that decision (this must
be properly explored and further guidance should be sought from the England Golf
Lead Safeguarding Officer)
• Emergency or life-threatening situations may warrant the sharing of relevant
information with the emergency services without consent
• Other people are, or may be, at risk, including children
• A serious crime has been committed / may be prevented
• Individuals in a Position of Trust are implicated
4.7.1 In such circumstances, it is important to keep a careful record of the decision-making
process and guidance should be sought from the England Golf Lead Safeguarding Officer.
Legal advice will be sought where appropriate. If the decision is to take action without the
adult's consent, then unless it is unsafe to do so, the adult should be informed that this is
being done and of the reasons why.