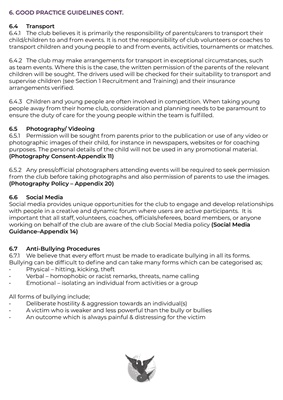 6. GOOD PRACTICE GUIDELINES CONT.
6.4 Transport
6.4.1 The club believes it is primarily the responsibility of parents/carers to transport their
child/children to and from events. It is not the responsibility of club volunteers or coaches to
transport children and young people to and from events, activities, tournaments or matches.
6.4.2 The club may make arrangements for transport in exceptional circumstances, such
as team events. Where this is the case, the written permission of the parents of the relevant
children will be sought. The drivers used will be checked for their suitability to transport and
supervise children (see Section 1 Recruitment and Training) and their insurance
arrangements verified.
6.4.3 Children and young people are often involved in competition. When taking young
people away from their home club, consideration and planning needs to be paramount to
ensure the duty of care for the young people within the team is fulfilled.
6.5 Photography/ Videoing
6.5.1 Permission will be sought from parents prior to the publication or use of any video or
photographic images of their child, for instance in newspapers, websites or for coaching
purposes. The personal details of the child will not be used in any promotional material.
(Photography Consent-Appendix 11)
6.5.2 Any press/official photographers attending events will be required to seek permission
from the club before taking photographs and also permission of parents to use the images.
(Photography Policy - Appendix 20)
6.6 Social Media
Social media provides unique opportunities for the club to engage and develop relationships
with people in a creative and dynamic forum where users are active participants. It is
important that all staff, volunteers, coaches, officials/referees, board members, or anyone
working on behalf of the club are aware of the club Social Media policy (Social Media
Guidance-Appendix 14)
6.7 Anti-Bullying Procedures
6.7.1 We believe that every effort must be made to eradicate bullying in all its forms.
Bullying can be difficult to define and can take many forms which can be categorised as;
• Physical - hitting, kicking, theft
• Verbal - homophobic or racist remarks, threats, name calling
• Emotional - isolating an individual from activities or a group
All forms of bullying include;
• Deliberate hostility & aggression towards an individual(s)
• A victim who is weaker and less powerful than the bully or bullies
• An outcome which is always painful & distressing for the victim