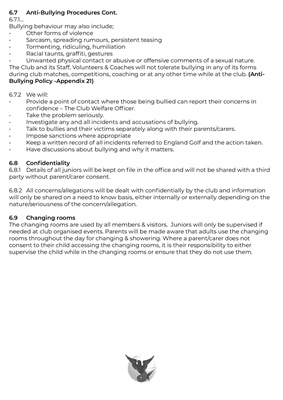 6.7 Anti-Bullying Procedures Cont.
6.7.1...
Bullying behaviour may also include;
• Other forms of violence
• Sarcasm, spreading rumours, persistent teasing
• Tormenting, ridiculing, humiliation
• Racial taunts, graffiti, gestures
• Unwanted physical contact or abusive or offensive comments of a sexual nature.
The Club and its Staff, Volunteers & Coaches will not tolerate bullying in any of its forms
during club matches, competitions, coaching or at any other time while at the club. (AntiBullying
Policy -Appendix 21)
6.7.2 We will:
• Provide a point of contact where those being bullied can report their concerns in
confidence - The Club Welfare Officer.
• Take the problem seriously.
• Investigate any and all incidents and accusations of bullying.
• Talk to bullies and their victims separately along with their parents/carers.
• Impose sanctions where appropriate
• Keep a written record of all incidents referred to England Golf and the action taken.
• Have discussions about bullying and why it matters.
6.8 Confidentiality
6.8.1 Details of all juniors will be kept on file in the office and will not be shared with a third
party without parent/carer consent.
6.8.2 All concerns/allegations will be dealt with confidentially by the club and information
will only be shared on a need to know basis, either internally or externally depending on the
nature/seriousness of the concern/allegation.
6.9 Changing rooms
The changing rooms are used by all members & visitors. Juniors will only be supervised if
needed at club organised events. Parents will be made aware that adults use the changing
rooms throughout the day for changing & showering. Where a parent/carer does not
consent to their child accessing the changing rooms, it is their responsibility to either
supervise the child while in the changing rooms or ensure that they do not use them.