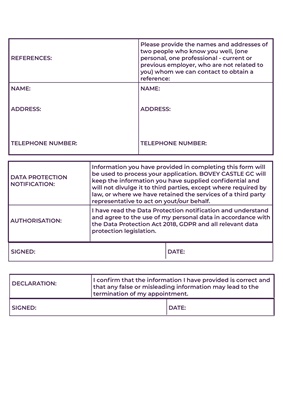 REFERENCES:
Please provide the names and addresses of
two people who know you well, (one
personal, one professional - current or
previous employer, who are not related to
you) whom we can contact to obtain a
reference:
NAME:
ADDRESS:
TELEPHONE NUMBER:
NAME:
ADDRESS:
TELEPHONE NUMBER:
DATA PROTECTION
NOTIFICATION:
Information you have provided in completing this form will
be used to process your application. BOVEY CASTLE GC will
keep the information you have supplied confidential and
will not divulge it to third parties, except where required by
law, or where we have retained the services of a third party
representative to act on yout/our behalf.
AUTHORISATION:
I have read the Data Protection notification and understand
and agree to the use of my personal data in accordance with
the Data Protection Act 2018, GDPR and all relevant data
protection legislation.
SIGNED: DATE:
DECLARATION:
I confirm that the information I have provided is correct and
that any false or misleading information may lead to the
termination of my appointment.
SIGNED: DATE: