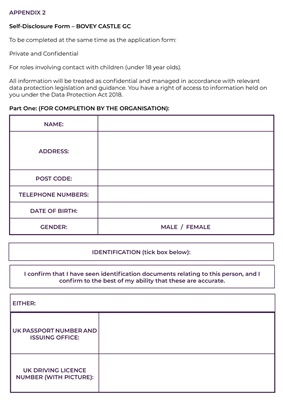 APPENDIX 2
Self-Disclosure Form - BOVEY CASTLE GC
To be completed at the same time as the application form:
Private and Confidential
For roles involving contact with children (under 18 year olds).
All information will be treated as confidential and managed in accordance with relevant
data protection legislation and guidance. You have a right of access to information held on
you under the Data Protection Act 2018.
Part One: (FOR COMPLETION BY THE ORGANISATION):
NAME:NAME:
ADDRESS:
POST CODE:
TELEPHONE NUMBERS:
DATE OF BIRTH:
GENDER: MALE / FEMALE
IDENTIFICATION (tick box below):
IDENTIFICATION (tick box below):
I confirm that I have seen identification documents relating to this person, and I
confirm to the best of my ability that these are accurate.
EITHER:EITHER:
UK PASSPORT NUMBER AND
UK PASSPORT NUMBER AND
ISSUING OFFICE:
ISSUING OFFICE:
UK DRIVING LICENCE
NUMBER (WITH PICTURE):