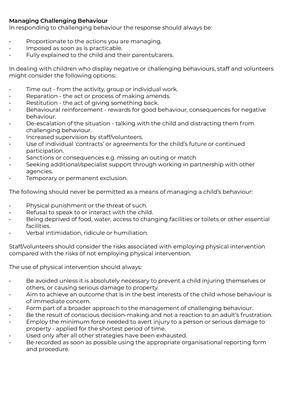 Managing Challenging Behaviour
In responding to challenging behaviour the response should always be:
• Proportionate to the actions you are managing.
• Imposed as soon as is practicable.
• Fully explained to the child and their parents/carers.
In dealing with children who display negative or challenging behaviours, staff and volunteers
might consider the following options:
• Time out - from the activity, group or individual work.
• Reparation - the act or process of making amends.
• Restitution - the act of giving something back.
• Behavioural reinforcement - rewards for good behaviour, consequences for negative
behaviour.
• De-escalation of the situation - talking with the child and distracting them from
challenging behaviour.
• Increased supervision by staff/volunteers.
• Use of individual 'contracts' or agreements for the child's future or continued
participation.
• Sanctions or consequences e.g. missing an outing or match
• Seeking additional/specialist support through working in partnership with other
agencies.
• Temporary or permanent exclusion.
The following should never be permitted as a means of managing a child's behaviour:
• Physical punishment or the threat of such.
• Refusal to speak to or interact with the child.
• Being deprived of food, water, access to changing facilities or toilets or other essential
facilities.
• Verbal intimidation, ridicule or humiliation.
Staff/volunteers should consider the risks associated with employing physical intervention
compared with the risks of not employing physical intervention.
The use of physical intervention should always:
• Be avoided unless it is absolutely necessary to prevent a child injuring themselves or
others, or causing serious damage to property.
• Aim to achieve an outcome that is in the best interests of the child whose behaviour is
of immediate concern.
• Form part of a broader approach to the management of challenging behaviour.
• Be the result of conscious decision-making and not a reaction to an adult's frustration.
• Employ the minimum force needed to avert injury to a person or serious damage to
property - applied for the shortest period of time.
• Used only after all other strategies have been exhausted.
• Be recorded as soon as possible using the appropriate organisational reporting form
and procedure.