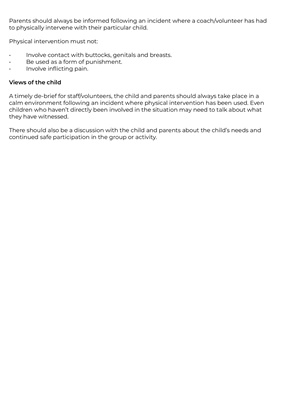 Parents should always be informed following an incident where a coach/volunteer has had
to physically intervene with their particular child.
Physical intervention must not:
• Involve contact with buttocks, genitals and breasts.
• Be used as a form of punishment.
• Involve inflicting pain.
Views of the child
A timely de-brief for staff/volunteers, the child and parents should always take place in a
calm environment following an incident where physical intervention has been used. Even
children who haven't directly been involved in the situation may need to talk about what
they have witnessed.
There should also be a discussion with the child and parents about the child's needs and
continued safe participation in the group or activity.