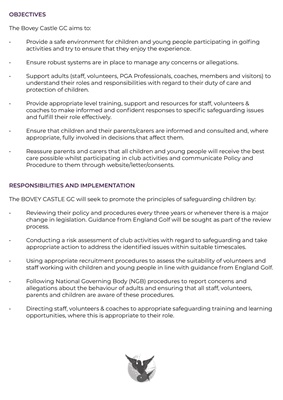 OBJECTIVES
The Bovey Castle GC aims to:
• Provide a safe environment for children and young people participating in golfing
activities and try to ensure that they enjoy the experience.
• Ensure robust systems are in place to manage any concerns or allegations.
• Support adults (staff, volunteers, PGA Professionals, coaches, members and visitors) to
understand their roles and responsibilities with regard to their duty of care and
protection of children.
• Provide appropriate level training, support and resources for staff, volunteers &
coaches to make informed and confident responses to specific safeguarding issues
and fulfill their role effectively.
• Ensure that children and their parents/carers are informed and consulted and, where
appropriate, fully involved in decisions that affect them.
• Reassure parents and carers that all children and young people will receive the best
care possible whilst participating in club activities and communicate Policy and
Procedure to them through website/letter/consents.
RESPONSIBILITIES AND IMPLEMENTATION
The BOVEY CASTLE GC will seek to promote the principles of safeguarding children by:
• Reviewing their policy and procedures every three years or whenever there is a major
change in legislation. Guidance from England Golf will be sought as part of the review
process.
• Conducting a risk assessment of club activities with regard to safeguarding and take
appropriate action to address the identified issues within suitable timescales.
• Using appropriate recruitment procedures to assess the suitability of volunteers and
staff working with children and young people in line with guidance from England Golf.
• Following National Governing Body (NGB) procedures to report concerns and
allegations about the behaviour of adults and ensuring that all staff, volunteers,
parents and children are aware of these procedures.
• Directing staff, volunteers & coaches to appropriate safeguarding training and learning
opportunities, where this is appropriate to their role.