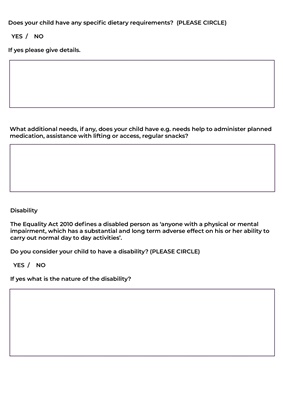 Does your child have any specific dietary requirements? (PLEASE CIRCLE)
YES / NO
If yes please give details.
What additional needs, if any, does your child have e.g. needs help to administer planned
medication, assistance with lifting or access, regular snacks?
Disability
The Equality Act 2010 defines a disabled person as 'anyone with a physical or mental
impairment, which has a substantial and long term adverse effect on his or her ability to
carry out normal day to day activities'.
Do you consider your child to have a disability? (PLEASE CIRCLE)
YES / NO
If yes what is the nature of the disability?