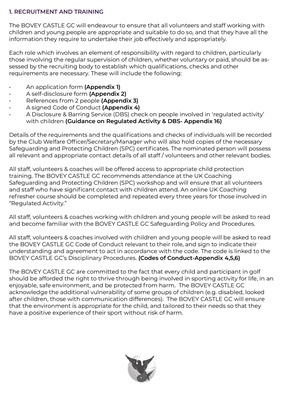 1. RECRUITMENT AND TRAINING
The BOVEY CASTLE GC will endeavour to ensure that all volunteers and staff working with
children and young people are appropriate and suitable to do so, and that they have all the
information they require to undertake their job effectively and appropriately.
Each role which involves an element of responsibility with regard to children, particularly
those involving the regular supervision of children, whether voluntary or paid, should be assessed by
the recruiting body to establish which qualifications, checks and other
requirements are necessary. These will include the following:
• An application form (Appendix 1)
• A self-disclosure form (Appendix 2)
• References from 2 people (Appendix 3)
• A signed Code of Conduct (Appendix 4)
• A Disclosure & Barring Service (DBS) check on people involved in 'regulated activity'
with children (Guidance on Regulated Activity & DBS- Appendix 16)
Details of the requirements and the qualifications and checks of individuals will be recorded
by the Club Welfare Officer/Secretary/Manager who will also hold copies of the necessary
Safeguarding and Protecting Children (SPC) certificates. The nominated person will possess
all relevant and appropriate contact details of all staff / volunteers and other relevant bodies.
All staff, volunteers & coaches will be offered access to appropriate child protection
training. The BOVEY CASTLE GC recommends attendance at the UK Coaching
Safeguarding and Protecting Children (SPC) workshop and will ensure that all volunteers
and staff who have significant contact with children attend. An online UK Coaching
refresher course should be completed and repeated every three years for those involved in
"Regulated Activity."
All staff, volunteers & coaches working with children and young people will be asked to read
and become familiar with the BOVEY CASTLE GC Safeguarding Policy and Procedures.
All staff, volunteers & coaches involved with children and young people will be asked to read
the BOVEY CASTLE GC Code of Conduct relevant to their role, and sign to indicate their
understanding and agreement to act in accordance with the code. The code is linked to the
BOVEY CASTLE GC's Disciplinary Procedures. (Codes of Conduct-Appendix 4,5,6)
The BOVEY CASTLE GC are committed to the fact that every child and participant in golf
should be afforded the right to thrive through being involved in sporting activity for life, in an
enjoyable, safe environment, and be protected from harm. The BOVEY CASTLE GC
acknowledge the additional vulnerability of some groups of children (e.g. disabled, looked
after children, those with communication differences). The BOVEY CASTLE GC will ensure
that the environment is appropriate for the child, and tailored to their needs so that they
have a positive experience of their sport without risk of harm.