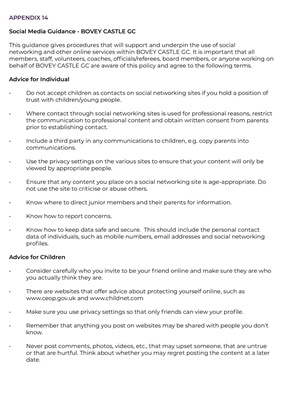 APPENDIX 14
Social Media Guidance - BOVEY CASTLE GC
This guidance gives procedures that will support and underpin the use of social
networking and other online services within BOVEY CASTLE GC. It is important that all
members, staff, volunteers, coaches, officials/referees, board members, or anyone working on
behalf of BOVEY CASTLE GC are aware of this policy and agree to the following terms.
Advice for Individual
• Do not accept children as contacts on social networking sites if you hold a position of
trust with children/young people.
• Where contact through social networking sites is used for professional reasons, restrict
the communication to professional content and obtain written consent from parents
prior to establishing contact.
• Include a third party in any communications to children, e.g. copy parents into
communications.
• Use the privacy settings on the various sites to ensure that your content will only be
viewed by appropriate people.
• Ensure that any content you place on a social networking site is age-appropriate. Do
not use the site to criticise or abuse others.
• Know where to direct junior members and their parents for information.
• Know how to report concerns.
• Know how to keep data safe and secure. This should include the personal contact
data of individuals, such as mobile numbers, email addresses and social networking
profiles.
Advice for Children
• Consider carefully who you invite to be your friend online and make sure they are who
you actually think they are.
• There are websites that offer advice about protecting yourself online, such as
www.ceop.gov.uk and www.childnet.com
• Make sure you use privacy settings so that only friends can view your profile.
• Remember that anything you post on websites may be shared with people you don't
know.
• Never post comments, photos, videos, etc., that may upset someone, that are untrue
or that are hurtful. Think about whether you may regret posting the content at a later
date.