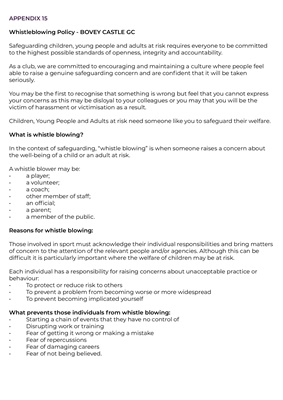 APPENDIX 15
Whistleblowing Policy - BOVEY CASTLE GC
Safeguarding children, young people and adults at risk requires everyone to be committed
to the highest possible standards of openness, integrity and accountability.
As a club, we are committed to encouraging and maintaining a culture where people feel
able to raise a genuine safeguarding concern and are confident that it will be taken
seriously.
You may be the first to recognise that something is wrong but feel that you cannot express
your concerns as this may be disloyal to your colleagues or you may that you will be the
victim of harassment or victimisation as a result.
Children, Young People and Adults at risk need someone like you to safeguard their welfare.
What is whistle blowing?
In the context of safeguarding, "whistle blowing" is when someone raises a concern about
the well-being of a child or an adult at risk.
A whistle blower may be:
• a player;
• a volunteer;
• a coach;
• other member of staff;
• an official;
• a parent;
• a member of the public.
Reasons for whistle blowing:
Those involved in sport must acknowledge their individual responsibilities and bring matters
of concern to the attention of the relevant people and/or agencies. Although this can be
difficult it is particularly important where the welfare of children may be at risk.
Each individual has a responsibility for raising concerns about unacceptable practice or
behaviour:
• To protect or reduce risk to others
• To prevent a problem from becoming worse or more widespread
• To prevent becoming implicated yourself
What prevents those individuals from whistle blowing:
• Starting a chain of events that they have no control of
• Disrupting work or training
• Fear of getting it wrong or making a mistake
• Fear of repercussions
• Fear of damaging careers
• Fear of not being believed.