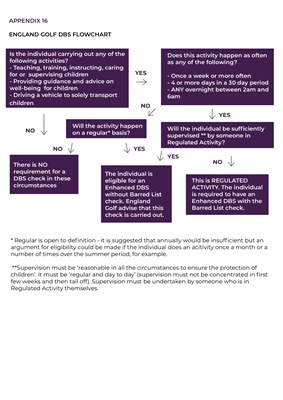 APPENDIX 16
ENGLAND GOLF DBS FLOWCHART
Is the individual carrying out any of the
following activities?
- Teaching, training, instructing, caring
for or supervising children
- Providing guidance and advice on
well-being for children
- Driving a vehicle to solely transport
children
Does this activity happen as often
as any of the following?
- Once a week or more often
- 4 or more days in a 30 day period
- ANY overnight between 2am and
6am
YES
NO Will the individual be sufficiently
supervised ** by someone in
Regulated Activity?
YES
Will the activity happen
on a regular* basis?
NO
There is NO
requirement for a
DBS check in these
circumstances
NO YES
The individual is
eligible for an
Enhanced DBS
without Barred List
check. England
Golf advise that this
check is carried out. YES
This is REGULATED
ACTIVITY. The individual
is required to have an
Enhanced DBS with the
Barred List check.
NO
* Regular is open to definition - it is suggested that annually would be insufficient but an
argument for eligibility could be made if the individual does an acitivity once a month or a
number of times over the summer period, for example.
**Supervision must be 'reasonable in all the circumstances to ensure the protection of
children'. It must be 'regular and day to day' (supervision must not be concentrated in first
few weeks and then tail off). Supervision must be undertaken by someone who is in
Regulated Activity themselves.