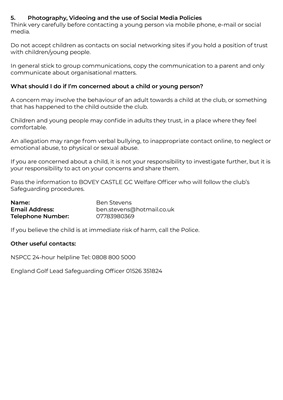 5. Photography, Videoing and the use of Social Media Policies
Think very carefully before contacting a young person via mobile phone, e-mail or social
media.
Do not accept children as contacts on social networking sites if you hold a position of trust
with children/young people.
In general stick to group communications, copy the communication to a parent and only
communicate about organisational matters.
What should I do if I'm concerned about a child or young person?
A concern may involve the behaviour of an adult towards a child at the club, or something
that has happened to the child outside the club.
Children and young people may confide in adults they trust, in a place where they feel
comfortable.
An allegation may range from verbal bullying, to inappropriate contact online, to neglect or
emotional abuse, to physical or sexual abuse.
If you are concerned about a child, it is not your responsibility to investigate further, but it is
your responsibility to act on your concerns and share them.
Pass the information to BOVEY CASTLE GC Welfare Officer who will follow the club's
Safeguarding procedures.
Name: Ben Stevens
Email Address: ben.stevens@hotmail.co.uk
Telephone Number: 07783980369
If you believe the child is at immediate risk of harm, call the Police.
Other useful contacts:
NSPCC 24-hour helpline Tel: 0808 800 5000
England Golf Lead Safeguarding Officer 01526 351824