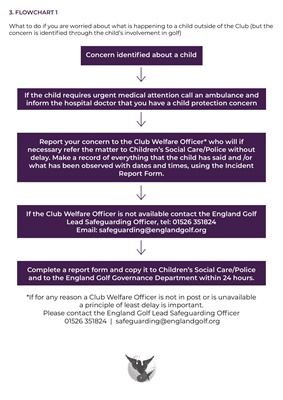 3. FLOWCHART 1
What to do if you are worried about what is happening to a child outside of the Club (but the
concern is identified through the child's involvement in golf)
Concern identified about a child
If the child requires urgent medical attention call an ambulance and
inform the hospital doctor that you have a child protection concern
Report your concern to the Club Welfare Officer* who will if
necessary refer the matter to Children's Social Care/Police without
delay. Make a record of everything that the child has said and /or
what has been observed with dates and times, using the Incident
Report Form.
If the Club Welfare Officer is not available contact the England Golf
Lead Safeguarding Officer, tel: 01526 351824
Email: safeguarding@englandgolf.org
Complete a report form and copy it to Children's Social Care/Police
and to the England Golf Governance Department within 24 hours.
*If for any reason a Club Welfare Officer is not in post or is unavailable
a principle of least delay is important.
Please contact the England Golf Lead Safeguarding Officer
01526 351824 | safeguarding@englandgolf.org