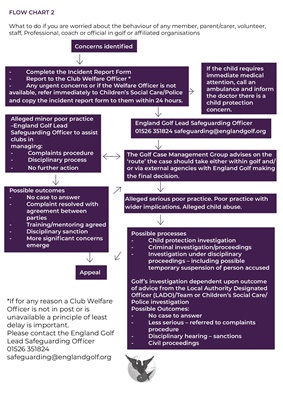 FLOW CHART 2
What to do if you are worried about the behaviour of any member, parent/carer, volunteer,
staff, Professional, coach or official in golf or affiliated organisations
Concerns identified
- Complete the Incident Report Form
- Report to the Club Welfare Officer *
- Any urgent concerns or if the Welfare Officer is not
available, refer immediately to Children's Social Care/Police
and copy the incident report form to them within 24 hours.
If the child requires
immediate medical
attention, call an
ambulance and inform
the doctor there is a
child protection
concern.
England Golf Lead Safeguarding Officer
01526 351824 safeguarding@englandgolf.org
The Golf Case Management Group advises on the
'route' the case should take either within golf and/
or via external agencies with England Golf making
the final decision.
Alleged serious poor practice. Poor practice with
wider implications. Alleged child abuse.
Alleged minor poor practice
-England Golf Lead
Safeguarding Officer to assist
clubs in
managing:
- Complaints procedure
- Disciplinary process
- No further action
Possible outcomes
- No case to answer
- Complaint resolved with
agreement between
parties
- Training/mentoring agreed
- Disciplinary sanction
- More significant concerns
emerge
Appeal
Possible processes
- Child protection investigation
- Criminal investigation/proceedings
- Investigation under disciplinary
proceedings - including possible
temporary suspension of person accused
Golf's investigation dependent upon outcome
of advice from the Local Authority Designated
Officer (LADO)/Team or Children's Social Care/
Police investigation
Possible Outcomes:
- No case to answer
- Less serious - referred to complaints
procedure
- Disciplinary hearing - sanctions
- Civil proceedings
*If for any reason a Club Welfare
Officer is not in post or is
unavailable a principle of least
delay is important.
Please contact the England Golf
Lead Safeguarding Officer
01526 351824