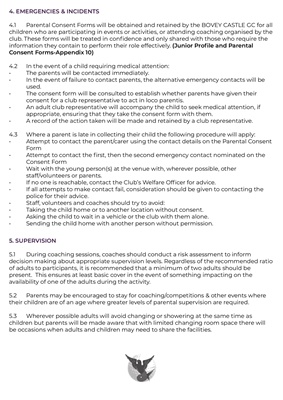 4. EMERGENCIES & INCIDENTS
4.1 Parental Consent Forms will be obtained and retained by the BOVEY CASTLE GC for all
children who are participating in events or activities, or attending coaching organised by the
club. These forms will be treated in confidence and only shared with those who require the
information they contain to perform their role effectively. (Junior Profile and Parental
Consent Forms-Appendix 10)
4.2 In the event of a child requiring medical attention:
• The parents will be contacted immediately.
• In the event of failure to contact parents, the alternative emergency contacts will be
used.
• The consent form will be consulted to establish whether parents have given their
consent for a club representative to act in loco parentis.
• An adult club representative will accompany the child to seek medical attention, if
appropriate, ensuring that they take the consent form with them.
• A record of the action taken will be made and retained by a club representative.
4.3 Where a parent is late in collecting their child the following procedure will apply:
• Attempt to contact the parent/carer using the contact details on the Parental Consent
Form
• Attempt to contact the first, then the second emergency contact nominated on the
Consent Form
• Wait with the young person(s) at the venue with, wherever possible, other
staff/volunteers or parents.
• If no one is reachable, contact the Club's Welfare Officer for advice.
• If all attempts to make contact fail, consideration should be given to contacting the
police for their advice.
• Staff, volunteers and coaches should try to avoid:
• Taking the child home or to another location without consent.
• Asking the child to wait in a vehicle or the club with them alone.
• Sending the child home with another person without permission.
5. SUPERVISION
5.1 During coaching sessions, coaches should conduct a risk assessment to inform
decision making about appropriate supervision levels. Regardless of the recommended ratio
of adults to participants, it is recommended that a minimum of two adults should be
present. This ensures at least basic cover in the event of something impacting on the
availability of one of the adults during the activity.
5.2 Parents may be encouraged to stay for coaching/competitions & other events where
their children are of an age where greater levels of parental supervision are required.
5.3 Wherever possible adults will avoid changing or showering at the same time as
children but parents will be made aware that with limited changing room space there will
be occasions when adults and children may need to share the facilities.