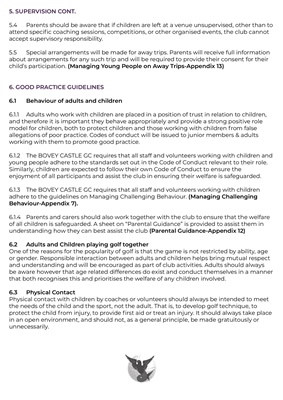 5. SUPERVISION CONT.
5.4 Parents should be aware that if children are left at a venue unsupervised, other than to
attend specific coaching sessions, competitions, or other organised events, the club cannot
accept supervisory responsibility.
5.5 Special arrangements will be made for away trips. Parents will receive full information
about arrangements for any such trip and will be required to provide their consent for their
child's participation. (Managing Young People on Away Trips-Appendix 13)
6. GOOD PRACTICE GUIDELINES
6.1 Behaviour of adults and children
6.1.1 Adults who work with children are placed in a position of trust in relation to children,
and therefore it is important they behave appropriately and provide a strong positive role
model for children, both to protect children and those working with children from false
allegations of poor practice. Codes of conduct will be issued to junior members & adults
working with them to promote good practice.
6.1.2 The BOVEY CASTLE GC requires that all staff and volunteers working with children and
young people adhere to the standards set out in the Code of Conduct relevant to their role.
Similarly, children are expected to follow their own Code of Conduct to ensure the
enjoyment of all participants and assist the club in ensuring their welfare is safeguarded.
6.1.3 The BOVEY CASTLE GC requires that all staff and volunteers working with children
adhere to the guidelines on Managing Challenging Behaviour. (Managing Challenging
Behaviour-Appendix 7).
6.1.4 Parents and carers should also work together with the club to ensure that the welfare
of all children is safeguarded. A sheet on "Parental Guidance" is provided to assist them in
understanding how they can best assist the club (Parental Guidance-Appendix 12)
6.2 Adults and Children playing golf together
One of the reasons for the popularity of golf is that the game is not restricted by ability, age
or gender. Responsible interaction between adults and children helps bring mutual respect
and understanding and will be encouraged as part of club activities. Adults should always
be aware however that age related differences do exist and conduct themselves in a manner
that both recognises this and prioritises the welfare of any children involved.
6.3 Physical Contact
Physical contact with children by coaches or volunteers should always be intended to meet
the needs of the child and the sport, not the adult. That is, to develop golf technique, to
protect the child from injury, to provide first aid or treat an injury. It should always take place
in an open environment, and should not, as a general principle, be made gratuitously or
unnecessarily.