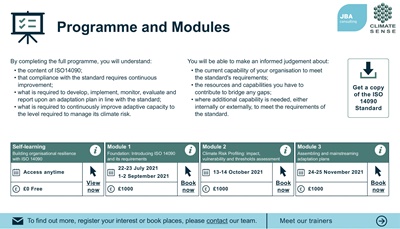 Programme and Modules
Module 3
Module 2
Module 1
Deep Dive on Action Planning
Deep dive on Risk and Adaptive Capacity
Summary of standard and Communication
and Monitoring & Evaluation
Self-learning Building organisational resilience with ISO
14090
Click to find out more about content, costs and dates
By completing the programme as a whole, you will understand
• the content of ISO14090;
• that compliance with the standard requires continuous
improvement;
• what is required to develop, implement, monitor, evaluate and
report upon an adaptation plan in line with the standard;
• what is required to continuously improve adaptive capacity to the
level required to manage its climate risk;
and will be able to make an informed judgement about:
• the current capability of your organisation to meet the standard's
requirements;
• the resources and capabilities you have to contribute to bridge
any gaps;
• where additional capability is needed, either internally or
externally, to meet the requirements of the standard.
The programme begins with an interactive self-learning module that demonstrates the case for the ISO 14090 approach. Our Foundation Module
introduces the guiding principles of the standard and the concept of adaptive planning, whilst Modules 2 to 5 collectively provide the insight and
knowledge needed to achieve your organisation's compliance with the standard; both for initial compliance and subsequent continuous
improvement.
Get a copy of the
ISO 14090 Standard
To find out more, register your interest or book places, please contact our team. Meet our trainers