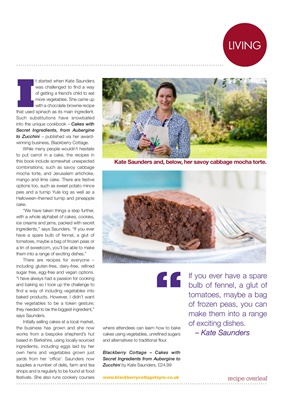 KITLIVING
recipe overleaf
It started when Kate Saunders
was challenged to find a way
of getting a friend's child to eat
more vegetables. She came up
with a chocolate brownie recipe
that used spinach as its main ingredient.
Such substitutions have snowballed
into the unique cookbook - Cakes with
Secret Ingredients, from Aubergine
to Zucchini - published via her awardwinning business, Blackberry Cottage.
While many people wouldn't hesitate
to put carrot in a cake, the recipes in
this book include somewhat unexpected
combinations, such as savoy cabbage
mocha torte, and Jerusalem artichoke,
mango and lime cake. There are festive
options too, such as sweet potato mince
pies and a turnip Yule log as well as a
Halloween-themed turnip and pineapple
cake.
"We have taken things a step further,
with a whole alphabet of cakes, cookies,
ice creams and jams, packed with secret
ingredients," says Saunders. "If you ever
have a spare bulb of fennel, a glut of
tomatoes, maybe a bag of frozen peas or
a tin of sweetcorn, you'll be able to make
them into a range of exciting dishes."
There are recipes for everyone -
including gluten-free, dairy-free, refined
sugar free, egg-free and vegan options.
"I have always had a passion for cooking
and baking so I took up the challenge to
find a way of including vegetables into
baked products. However, I didn't want
the vegetables to be a token gesture;
they needed to be the biggest ingredient,"
says Saunders.
Initially selling cakes at a local market,
the business has grown and she now
works from a bespoke shepherd's hut
based in Berkshire, using locally-sourced
ingredients, including eggs laid by her
own hens and vegetables grown just
yards from her 'office'. Saunders now
supplies a number of delis, farm and tea
shops and is regularly to be found at food
festivals. She also runs cookery courses
Kate Saunders and, below, her savoy cabbage mocha torte.
where attendees can learn how to bake
cakes using vegetables, unrefined sugars
and alternatives to traditional flour.
Blackberry Cottage - Cakes with
Secret Ingredients from Aubergine to
Zucchini by Kate Saunders, £24.99
www.blackberrycottagefayre.co.uk
"If you ever have a spare
bulb of fennel, a glut of
tomatoes, maybe a bag
of frozen peas, you can
make them into a range
of exciting dishes.
- Kate Saunders