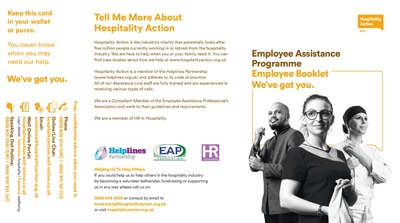 Hospitality Action is the industry's charity that potentially looks after
five million people currently working in or retired from the hospitality
industry. We are here to help when you or your family need it. You can
find case studies about how we help at www.hospitalityaction.org.uk.
Hospitality Action is a member of the Helplines Partnership
(www.helplines.org.uk) and adheres to its code of practice.
All of our Assistance Line staff are fully trained and are experienced in
receiving various types of calls.
We are a Consultant Member of the Employee Assistance Professional's
Association and work to their guidelines and requirements.
We are a member of HR in Hospitality.
Helping Us To Help Others
If you could help fundraising@hospitalityaction.org.uk industry
by becoming a volunteer befriender, fundraising or supporting
us in any way please call us on:
0203 004 5505 or contact by email to
fundraising@hospitalityaction.org.uk
or visit hospitalityaction.org.uk
Tell Me More About
Hospitality Action EAP
Employee Assistance
assistance@hospitalityaction.org.ukp>
We've got you.
Phone
0808 802 2111 (UK) / 1800 911 121 (Irl)
Online/Live Chat:
hospitalityaction.well-online.co.uk
Email:
assistance@hospitalityaction.org.uk
Well Online Portal:
hospitalityaction.well-online.co.uk
Login details - Username: hospitality | Password: wellbeing
Speaking Out Hotline:
0808 801 0351 (UK) / 1800 910 351 (Irl)
Free, confidential advice when you need it.
Keep this card
in your wallet
or purse.
You never know
when you may
need our help.
We've got you.