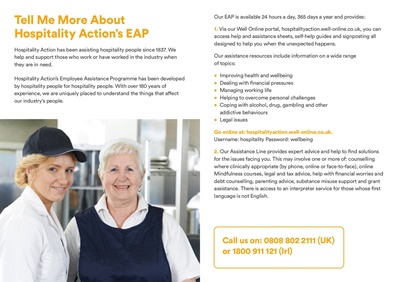 Tell Me More About
Hospitality Action's EAP
Hospitality Action has been assisting hospitality people since 1837. We
help and support those who work or have worked in the industry when
they are in need.
Hospitality Action's Employee Assistance Programme has been developed
by hospitality people for hospitality people. With over 180 years of
experience, we are uniquely placed to understand the things that affect
our industry's people.
Our EAP is available 24 hours a day, 365 days a year and provides:
1. Via our Well Online portal, hospitalityaction.well-online.co.uk, you can
access help and assistance sheets, self-help guides and signposting all
designed to help you when the unexpected happens.
Our assistance resources include information on a wide range
of topics:
• Improving health and wellbeing
• Dealing with financial pressures
• Managing working life
• Helping to overcome personal challenges
• Coping with alcohol, drug, gambling and other
addictive behaviours
• Legal issues
Go online at: hospitalityaction.well-online.co.uk.
Username: hospitality Password: wellbeing
2. Our Assistance Line provides expert advice and help to find solutions
for the issues facing you. This may involve one or more of: counselling
where clinically appropriate (by phone, online or face-to-face), online
Mindfulness courses, legal and tax advice, help with financial worries and
debt counselling, parenting advice, substance misuse support and grant
assistance. There is access to an interpreter service for those whose first
language is not English.
Call us on: 0808 802 2111 (UK)
or 1800 911 121 (Irl)