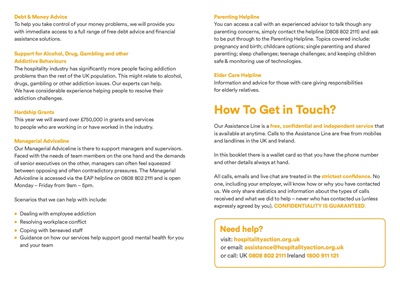 Debt & Money Advice
To help you take control of your money problems, we will provide you
with immediate access to a full range of free debt advice and financial
assistance solutions.
Support for Alcohol, Drug, Gambling and other
Addictive Behaviours
The hospitality industry has significantly more people facing addiction
problems than the rest of the UK population. This might relate to alcohol,
drugs, gambling or other addiction issues. Our experts can help.
We have considerable experience helping people to resolve their
addiction challenges.
Hardship Grants
This year we will award over £750,000 in grants and services
to people who are working in or have worked in the industry.
Managerial Adviceline
Our Managerial Adviceline is there to support managers and supervisors.
Faced with the needs of team members on the one hand and the demands
of senior executives on the other, managers can often feel squeezed
between opposing and often contradictory pressures. The Managerial
Adviceline is accessed via the EAP helpline on 0808 802 2111 and is open
Monday - Friday from 9am - 5pm.
Scenarios that we can help with include:
• Dealing with employee addiction
• Resolving workplace conflict
• Coping with bereaved staff
• Guidance on how our services help support good mental health for you
and your team
Parenting Helpline
You can access a call with an experienced advisor to talk though any
parenting concerns, simply contact the helpline (0808 802 2111) and ask
to be put through to the Parenting Helpline. Topics covered include:
pregnancy and birth; childcare options; single parenting and shared
parenting; sleep challenges; teenage challenges; and keeping children
safe & monitoring use of technologies.
Elder Care Helpline
Information and advice for those with care giving responsibilities
for elderly relatives.
How To Get in Touch?
Our Assistance Line is a free, confidential and independent service that
is available at anytime. Calls to the Assistance Line are free from mobiles
and landlines in the UK and Ireland.
In this booklet there is a wallet card so that you have the phone number
and other details always at hand.
All calls, emails and live chat are treated in the strictest confidence. No
one, including your employer, will know how or why you have contacted
us. We only share statistics and information about the types of calls
received and what we did to help - never who has contacted us (unless
expressly agreed by you). CONFIDENTIALITY IS GUARANTEED.
visit: hospitalityaction.org.uk
or email: assistance@hospitalityaction.org.uk
or call: UK 0808 802 2111 Ireland 1800 911 121
Need help?