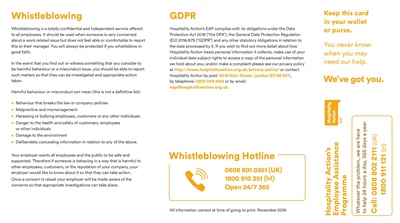 0808 801 0351 (UK)
1800 910 351 (Irl)
Open 24/7 365
Whistleblowing
Whistleblowing is a totally confidential and independent service offered
to all employees. It should be used when someone is very concerned
about a work related issue but does not feel able or comfortable to report
this to their manager. You will always be protected if you whistleblow in
good faith.
In the event that you find out or witness something that you consider to
be harmful behaviour or a misconduct issue, you should be able to report
such matters so that they can be investigated and appropriate action
taken.
Harmful behaviour or misconduct can mean (this is not a definitive list):
• Behaviour that breaks the law or company policies
• Malpractice and mismanagement
• Harassing or bullying employees, customers or any other individuals
• Danger to the health and safety of customers, employees
or other individuals
• Damage to the environment
• Deliberately concealing information in relation to any of the above.
Your employer wants all employees and the public to be safe and
supported. Therefore if someone is behaving in a way that is harmful to
other employees, customers, or the reputation of your company, your
employer would like to know about it so that they can take action.
Once a concern is raised your employer will be made aware of the
concerns so that appropriate investigations can take place.
GDPR
Hospitality Action's EAP complies with its obligations under the Data
Protection Act 2018 ("the DPA"), the General Data Protection Regulation
(EU) 2016/679 ("GDPR") and any other statutory obligations in relation to
the data processed by it. If you wish to find out more detail about how
Hospitality Action treats personal information it collects; make use of your
individual data subject rights to access a copy of the personal information
we hold about you; and/or make a complaint please see our privacy policy
at http://www.hospitalityaction.org.uk/privacy-policeap@hospitalityaction.org.ukitality Action by post: 62 Britton Street, London EC1M 5UY,
by telephone: 0203 004 5515 or by email:
eap@hospitalityaction.org.uk.
Whistleblowing Hotline
EAP
All information correct at time of going to print. November 2019.
Hospitality Action's
Employee Assistance
Programme
Whatever the problem, we are here
to help 24 hours a day, 365 days a year.
Call: 0808 802 2111 (UK)
1800 911 121 (Irl)
Keep this card
in your wallet
or purse.
You never know
when you may
need our help.
We've got you.