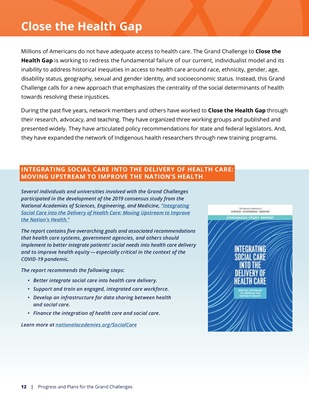 Close the Health Gap
Millions of Americans do not have adequate access to health care. The Grand Challenge to Close the
Health Gap is working to redress the fundamental failure of our current, individualist model and its
inability to address historical inequities in access to health care around race, ethnicity, gender, age,
disability status, geography, sexual and gender identity, and socioeconomic status. Instead, this Grand
Challenge calls for a new approach that emphasizes the centrality of the social determinants of health
towards resolving these injustices.
During the past five years, network members and others have worked to Close the Health Gap through
their research, advocacy, and teaching. They have organized three working groups and published and
presented widely. They have articulated policy recommendations for state and federal legislators. And,
they have expanded the network of Indigenous health researchers through new training programs.
INTEGRATING SOCIAL CARE INTO THE DELIVERY OF HEALTH CARE:
MOVING UPSTREAM TO IMPROVE THE NATION'S HEALTH
Several individuals and universities involved with the Grand Challenges
participated in the development of the 2019 consensus study from the
National Academies of Sciences, Engineering, and Medicine, "Integrating
Social Care into the Delivery of Health Care: Moving Upstream to Improve
the Nation's Health."
The report contains five overarching goals and associated recommendations
that health care systems, government agencies, and others should
implement to better integrate patients' social needs into health care delivery
and to improve health equity - especially critical in the context of the
COVID -19 pandemic.
The report recommends the following steps:
• Better integrate social care into health care delivery.
• Support and train an engaged, integrated care workforce.
• Develop an infrastructure for data sharing between health
and social care.
• Finance the integration of health care and social care.
Learn more at nationalacademies.org/SocialCare
12 | Progress and Plans for the Grand Challenges