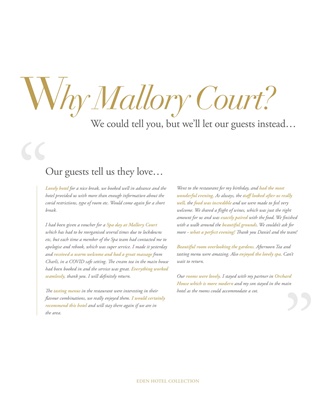 "
Why Mallory Court?
Lovely hotel for a nice break, we booked well in advance and the
hotel provided us with more than enough information about the
covid restrictions, type of room etc. Would come again for a short
break.
I had been given a voucher for a Spa day at Mallory Court
which has had to be reorganised several times due to lockdowns
etc, but each time a member of the Spa team had contacted me to
apologise and rebook, which was super service. I made it yesterday
and received a warm welcome and had a great massage from
Charli, in a COVID safe setting. The cream tea in the main house
had been booked in and the service was great. Everything worked
seamlessly, thank you. I will definitely return.
The tasting menus in the restaurant were interesting in their
flavour combinations, we really enjoyed them. I would certainly
recommend this hotel and will stay there again if we are in
the area.
Went to the restaurant for my birthday, and had the most
wonderful evening. As always, the staff looked after us really
well, the food was incredible and we were made to feel very
welcome. We shared a flight of wines, which was just the right
amount for us and was exactly paired with the food. We finished
with a walk around the beautiful grounds. We couldn't ask for
more - what a perfect evening! Thank you Daniel and the team!
Beautiful room overlooking the gardens. Afternoon Tea and
tasting menu were amazing. Also enjoyed the lovely spa. Can't
wait to return.
Our rooms were lovely. I stayed with my partner in Orchard
House which is more modern and my son stayed in the main
hotel as the rooms could accommodate a cot.
EDEN HOTEL COLLECTION "
We could tell you, but we'll let our guests instead…
Our guests tell us they love…