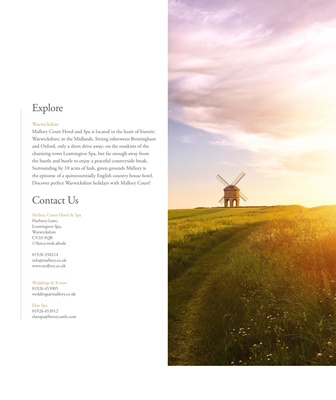 Contact Us
Mallory Court Hotel & Spa
Harbury Lane,
Leamington Spa,
Warwickshire
CV33 9QB
///fancy.ends.abode
01926 330214
weddings@mallory.co.uky.co.uk
Weddings & Eventselanspa@boveycastle.com>weddings@mallory.co.uk
Elan Spa
01926 453912
elanspa@boveycastle.com
Explore
Warwickshire
Mallory Court Hotel and Spa is located in the heart of historic
Warwickshire; in the Midlands. Sitting inbetween Birmingham
and Oxford, only a short drive away; on the outskirts of the
charming town Leamington Spa, but far enough away from
the hustle and bustle to enjoy a peaceful countryside break.
Surrounding by 10 acres of lush, green grounds Mallory is
the epitome of a quintessentially English country house hotel.
Discover perfect Warwickshire holidays with Mallory Court!