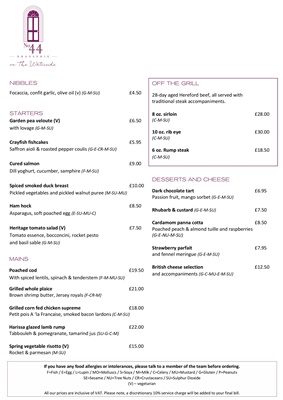 If you have any food allergies or intolerances, please talk to a member of the team before ordering.
F=Fish / E=Egg / L=Lupin / MO=Molluscs / S=Soya / M=Milk / C=Celery / MU=Mustard / G=Gluten / P=Peanuts
SE=Sesame / NU=Tree Nuts / CR=Crustaceans / SU=Sulphur Dioxide
(v) - vegetarian
All our prices are inclusive of VAT. Please note, a discretionary 10% service charge will be added to your final bill.
OFF THE GRILL
28-day aged Hereford beef, all served with
traditional steak accompaniments.
8 oz. sirloin £28.00
(C-M-SU)
10 oz. rib eye £30.00
(C-M-SU)
6 oz. Rump steak £18.50
(C-M-SU)
MAINS
Poached cod £19.50
with spiced lentils, spinach & tenderstem (F-M-MU-SU)
Grilled whole plaice, £21.00
brown shrimp butter, Jersey royals (F-CR-M)
Grilled corn fed chicken supreme, £18.00
petit pois A 'la Francaise, smoked bacon lardons (C-M-SU)
Harissa glazed lamb rump, £22.00
tabbouleh & pomegranate, tamarind jus (SU-G-C-M)
Spring vegetable risotto, £15.00
rocket & parmesan (v) (M-SU)
NIBBLES
Focaccia, confit garlic, olive oil (v) (G-M-SU) £4.50
STARTERS
Garden pea veloute £6.50
with lovage (v) (G-M-SU)
Crayfish fishcakes, £5.95
saffron aioli & roasted pepper coulis (G-E-CR-M-SU)
Cured salmon, £9.00
dill yoghurt, cucumber, samphire (F-M-SU)
Spiced smoked duck breast, £10.00
pickled vegetables and pickled walnut puree (M-SU-MU)
Ham hock, £8.50
asparagus, soft poached egg (E-SU-MU-C)
Heritage tomato salad, £7.50
tomato essence, bocconcini, rocket pesto
and basil sable (v) (G-M-SU)
DESSERTS AND CHEESE
Dark chocolate tart, £6.95
passion fruit, mango sorbet (G-E-M-SU)
Rhubarb & custard (G-E-M-SU) £7.50
Cardamom panna cotta, £8.50
poached peach & almond tuille and raspberries
(G-E-NU-M-SU)
Strawberry parfait £7.95
and fennel meringue (G-E-M-SU)
British cheese selection £12.50
and accompaniments (G-C-MU-E-M-SU)