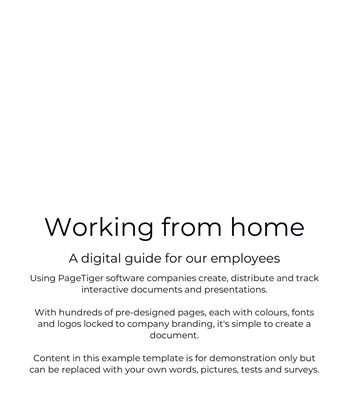 Working from home
A digital gide for our employees

Using PageTiger software companies create, distribute and track interactive documents and presentations.
With hundreds of pre-designed pages, each with colours, fonts and logos locked to company branding, it's simple to create a document.
Content in this example template is for demonstration only but can be replaced with your own words, pictures, tests and surveys.
It's fair to say that life has become more difficult for everyone.
Coronavirus has changed everything and we have all had to adjust to new ways of living and working.
There are some perks to working from home we can all enjoy, but feeling stress, boredom, anxiety and uncertainty is also completely normal.
We've created this interactive pack to help you plan your routine, set up your workspace and keep healthy.