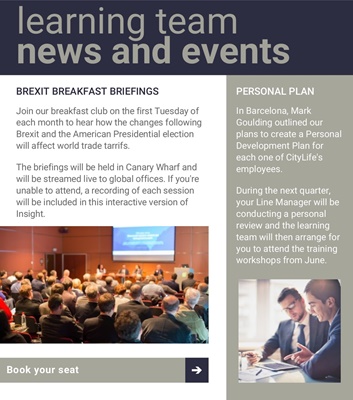 PERSONAL PLAN
In Barcelona, Mark
Goulding outlined our
plans to create a Personal
Development Plan for
each one of CityLife's
employees.
During the next quarter,
your Line Manager will be
conducting a personal
review and the learning
team will then arrange for
you to attend the training
workshops from June.
Book your seat
BREXIT BREAKFAST BRIEFINGS
Join our breakfast club on the first Tuesday of
each month to hear how the changes following
Brexit and the American Presidential election
will affect world trade tarrifs.
The briefings will be held in Canary Wharf and
will be streamed live to global offices. If you're
unable to attend, a recording of each session
will be included in this interactive version of
Insight.
learning team
news and events
news and events
news and events
news and events