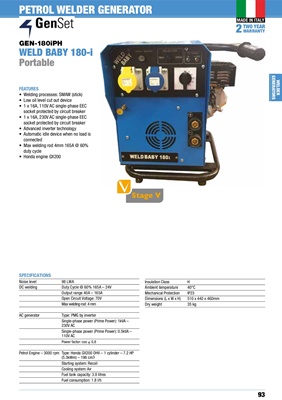 SPECIALITY REGULATORS
Head Office Sales: Tel: 01420 588180 Fax: 01420 588184 Email: sales@swp.uk.net
Northern Depot Sales: Tel: 01942 719930 Fax: 01942 729937 Email: airsales@swp.uk.net 281
MULTI STAGE REGULATORS
Part No. 1230
Multi Stage 2g Inert Gas Regulator
Covers: Nitrogen, Argon, Air, Helium
10 bar
Quantity: 8
Part No. 1248
Multi Stage 2g Oxygen Regulator
10 bar
Quantity: 8
Part No. 1249
Multi Stage 2g Acetylene Regulator
1.5 bar
Quantity: 8
BS EN ISO 2503
Part No. 2061
Designed for applications where
constant high pressure is required:
• Component pressure testing
• Pressurisation of pipeline systems
• Purging and high pressure laboratory
The multi stage regulator is designed to be
used where constant pressure and flows
are critical. Once set, the outlet pressure
and flow remain constant until the gas
source is interrupted, or when the cylinder
empties.
Part No. 2062
This rugged, single stage regulator includes a
7/16" outlet and is suitable for:
• HVAC
• Automotive
• Low pressure testing
Part No. 2063 - 35 lit/min
Part No. 2064 - 10 bar
Heavy duty and single stage, this regulator
has a Nevoc fitting and fits Air Products
Maxx Gas, Energas and Air Liquide inert 300
bar cylinders.
GAS
WELDING
Regulators
SPECIALITY REGULATORS