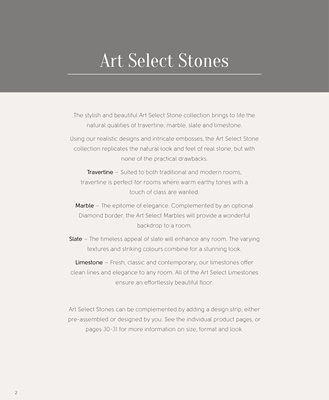 The stylish and beautiful Art Select Stone collection brings to life the
natural qualities of travertine, marble, slate and limestone.
Using our realistic designs and intricate embosses, the Art Select Stone
collection replicates the natural look and feel of real stone, but with
none of the practical drawbacks.
Travertine - Suited to both traditional and modern rooms,
travertine is perfect for rooms where warm earthy tones with a
touch of class are wanted.
Marble - The epitome of elegance. Complemented by an optional
Diamond border, the Art Select Marbles will provide a wonderful
backdrop to a room.
Slate - The timeless appeal of slate will enhance any room. The varying
textures and striking colours combine for a stunning look.
Limestone - Fresh, classic and contemporary, our limestones ofer
clean lines and elegance to any room. All of the Art Select Limestones
ensure an efortlessly beautiful floor.
Art Select Stones can be complemented by adding a design strip, either
pre-assembled or designed by you. See the individual product pages, or
pages 30-31 for more information on size, format and look.
2
Art Select Stones