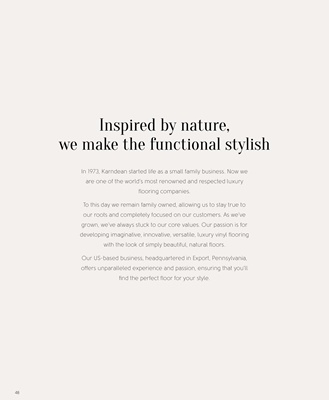 48
In 1973, Karndean started life as a small family business. Now we
are one of the world's most renowned and respected luxury
flooring companies.
To this day we remain family owned, allowing us to stay true to
our roots and completely focused on our customers. As we've
grown, we've always stuck to our core values. Our passion is for
developing imaginative, innovative, versatile, luxury vinyl flooring
with the look of simply beautiful, natural floors.
Our US-based business, headquartered in Export, Pennsylvania,
ofers unparalleled experience and passion, ensuring that you'll
find the perfect floor for your style.
Inspired by nature,
we make the functional stylish