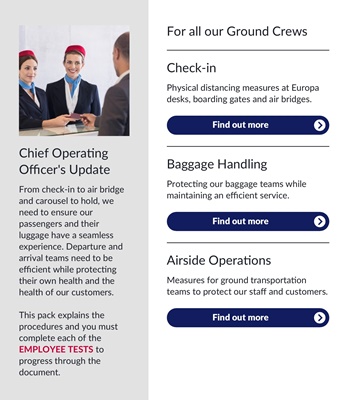 Find out more
Airside Operaঞons
Measures for ground transportaঞon
teams to protect our staff and customers.
Find out more
Baggage Handling
Protecঞng our baggage teams while
maintaining an efficient service.
Find out more
Check-in
Physical distancing measures at Europa
desks, boarding gates and air bridges.
For all our Ground Crews
Chief Operaঞng
Officer's Update
From check-in to air bridge
and carousel to hold, we
need to ensure our
passengers and their
luggage have a seemless
experience.
Departure and arrival teams
need to be efficient while
protecঞng theior own
health and teh health of our
cistomers.
This interacঞve guide will
show you how.