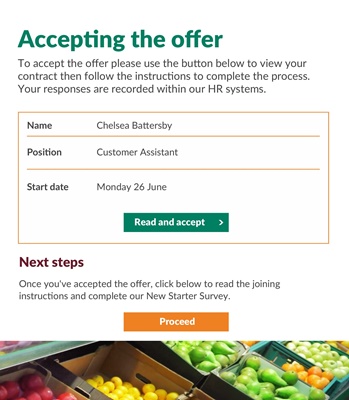 Request uniform
Accepঞng the offer
During your ঞme with us, it's likely
that you'll encounter some keywords, phrases and acronyms that
you won't
have heard before. Although these are fairly straigh�orward, it's
recommended you get to know these terms before
your first day
Read more
Store Shrimpton Express
Important informaঞon
Our iconic uniform defines who we are and, in wearing it, you'll be instantly recognised as an
ambassador of one of the UKs leading supermarkets.
As such, we expect our colleagues to consider their conduct at all ঞmes when in uniform, as this will
reflect on our brand.
You will receive your uniform within the first two weeks of your first day. Complete the form below
to noঞfy HR of your preferences.