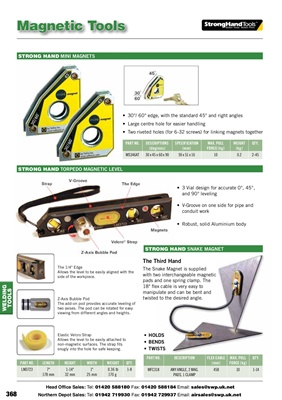 The Third Hand
The Snake Magnet is supplied
with two interchangeable magnetic
pads and one spring clamp. The
18" flex cable is very easy to
manipulate and can be bent and
twisted to the desired angle.
Head Office Sales: Tel: 01420 588180 Fax: 01420 588184 Email: sales@swp.uk.netttp://swp.uk.net" target="_blank" title="Visit swp.uk.net">swp.uk.netairsales@swp.uk.netpot Sales: Tel: 01942 719930 Fax: 01942 729937 Email: airsales@swp.uk.net
STRONG HAND TORPEDO MAGNETIC LEVEL
PART NO. LENGTH HEIGHT WIDTH WEIGHT QTY.
LM3723 7"
178 mm
1-14"
32 mm
1"
25 mm
0.36 lb
170 g
1-8
• 3 Vial design for accurate 0°, 45°,
and 90° leveling
• V-Groove on one side for pipe and
conduit work
• Robust, solid Aluminium body
Z-Axis Bubble Pod
The add-on pod provides accurate leveling of
two axises. The pod can be rotated for easy
viewing from different angles and heights.
The 1/4" Edge
Allows the level to be easily aligned with the
side of the workpiece.
Elastic Velcro Strap
Allows the level to be easily attached to
non-magnetic surfaces. The strap fits
snugly into the hole for safe keeping.
STRONG HAND MINI MAGNETS
PART NO. DESCRIPTION FLEX CABLE
(mm)
MAX. PULL
FORCE (kg)
QTY.
MFC318 ANY ANGLE, 2 MAG.
PADS, 1 CLAMP
458 10 1-14
PART NO. DESCRIPTIONS
(degrees)
SPECIFICATION
(mm)
MAX. PULL
FORCE (kg)
WEIGHT
(kg)
QTY.
MS346AT 30 x 45 x 60 x 90 59 x 51 x 16 10 0.2 2-45
• 30°/ 60° edge, with the standard 45° and right angles
• Large centre hole for easier handling
• Two riveted holes (for 6-32 screws) for linking magnets together
STRONG HAND SNAKE MAGNET
368
• HOLDS
• BENDS
• TWISTS
WELDING
TOOLS
Magnetic Tools